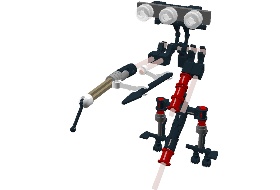 The Cybernaught is a giant robot created by Dr. Hydraulik. He is the primary focus of Mission Cybernaught. He was destroyed by Alpha Team B-12 team with the Anti Cumpolation Gun.
Right arm: Laser Cannon
Left Arm: Machine Gun and Harpoon Launcher
Subthemes
Edit
The Cybernaught appears in all three of the Mission Cybernaught sets.